EasyStoreMaker 1.5 Demonstration
Link to your store (http://www.yourdomainname.com/cgi-bin/online/store.php)

Link to access your Order Online Pickup System

Company
Allows you to enter all necessary info.

If you have created a website using Website Wizard, it will automatically fill in Company Name and Email Address.
Tax Table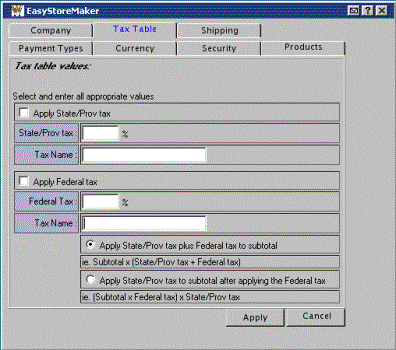 Ability to apply State, Prov or federal tax.

Ability to define the % amount of tax and name the tax

Allows you to apply 2 diff tax calculations

Shipping

Payment types
Allows you to define which credit cards you would like to support as well as any other type of payment method.
Currency
Option to define which currency your store will support

Security
Option to receive an order notification

In order to receive a notification you will have to supply an email address you wish to be contacted by

You are given an order processing UserName and are asked to define a password.

 

The password must be greater than 5 characters long. You will need this to access your Order Online Pickup system. The URL to this page is:

https://www.securewebexchange.com/yourdomainname.com/cgi-bin/online/orders.php

Products

Add/Edit products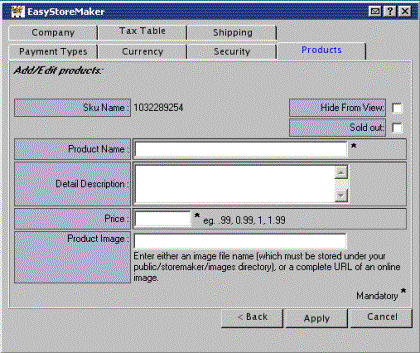 SKU number is automatically assigned to the product

Able to define product name, description, and price.

Able to display image of product by a URL or a file you upload through your file manager.

You can set this product to be hidden from view, or to apply the status of "sold out"
Order Online Pickup System
Has a password retrieval system, where if you forget your password, it will be sent to the email address you specified in the order notification section under the "security" tab
Informs you of open orders
Can sort orders by "open" or "filled" orders.